THE RIGHTEOUS BROTHERS
---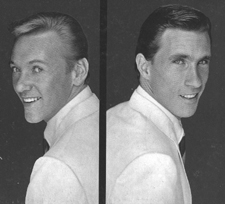 PHIL SPECTOR MET THE RIGHTEOUS BROTHERS IN 1964. THEY WERE NOT BROTHERS, THEIR NAMES ARE BOBBY HATFIELD AND BILL MEDLEY.
BEFORE MEETING UP WITH PHIL SPECTOR THEY HAD RECORDED FOR THE MOONGLOW RECORD LABEL WITH MARGINAL HITS, "LITTLE LATIN LUPE LU" HAD EVEN REACHED #49 ON THE CHARTS. DURING 1965 PHILLES RECORDS SEEMED TO BE RUNNING OUT OF STEAM EVEN THOUGH THE RONETTES WERE STILL MAKING HITS, THE BRITISH INVASION SEEMED TO STEAL SOME OF THE GLORY FROM PHIL`S PRODUCTIONS .UP UNTIL THEN EVERY PHILLES RECORD FEATURED A BLACK SINGER. PHIL FELT, TO BREAK NEW GROUND HE WOULD TRY A WHITE GROUP BUT KEEP THE BLACK VOCAL SOUND. THE RIGHTEOUS BROTHERS FIT THE BILL PERFECTLY.
USING SONGWRITERS BARRY MANN AND CYNTHIA WEIL TO PEN HIS NEXT SONG FOR THE DUO FOR HIS BIG COMEBACK, THEY SPENT MONTHS WORKING ON "YOU`VE LOST THAT LOVIN FEELING", WHEN IT WAS RELEASED IT TOOK THE WORLD BY STORM. THE RECORD WAS ALMOST 4 MINUTES LONG SO TO TRICK THE RADIO STATIONS INTO PLAYING THE RECORD, PHIL HAD THE LABEL READ "3:05". THE PLOY WORKED AND THE RECORD BECAME A SMASH HIT.
THE SECOND SINGLE "JUST ONCE IN MY LIFE", SOUNDING SIMILAR TO "LOVING FEELING" CHARTED IN THE TOP 10. THE THIRD SINGLE "HUNG ON YOU" WENT TO #47 UNTIL THE DJ`S TURNED THE RECORD OVER AND BEGAN TO PLAY THE FLIP SIDE "UNCHAINED MELODY", SKYROCKETING THE RIGHTEOUS BROTHERS TO #4 WITH A MORE ADULT SOUND.PHIL SPECTOR RECOGNIZED THIS TURN AND HAD THE DUO RECORD ANOTHER ADULT STANDARD "EBB TIDE" THEN "THE WHITE CLIFFS OF DOVER". BUT BY THEN PHIL HAD STARTED LOSING INTEREST AND WAS MOVING ON.
THREE LPS WERE RELEASED ON THE PHILLES LABEL:"YOU`VE LOST THAT LOVIN FEELIN", "JUST ONCE IN MY LIFE" AND "BACK TO BACK". ALTHOUGH PHIL HAD PRODUCED ALL THE SINGLE RELEASES FROM THESE LP`S, THE REMAINING CUTS WERE PRODUCED BY BILL MEDLEY AND ARE PRETTY LAME COMPARED TO THE SPECTOR PRODUCTIONS.
TIRED OF THEIR RECORDS BEING REFERRED TO AS "PHIL SPECTOR CREATIONS", THEY BROKE THEIR CONTRACT AND WENT TO ANOTHER RECORD LABEL, A LAWSUIT FOLLOWED AND PHIL WON FOR BREACH OF CONTRACT BUT THE BOYS STILL WOUND UP WITH A HIT RECORD "YOU`RE MY SOUL AND INSPIRATION" ON THE VERVE LABEL, #1 FOR THREE WEEKS THEN SLOWLY FADED INTO OBSCURITY TO RESURFACE LATER AS A LAS VEGAS ACT. "UNCHAINED MELODY" FOUND A NEW AUDIENCE IN THE MOVIE "GHOST" AND CHARTED AGAIN AT #13.
GUESTBOOK
---

Copyright 1997 Rausch/Jay Enterprise
jonr@ohio.net