CAN YOU FIND ALL OF THE PHILLES ARTISTS IN THE PICTURE ?
CLICK ON THE ARTIST YOU WANT IN THIS FAMOUS LP COVER.
IT MAY TAKE A MOMENT FOR THE IMAGE TO FOCUS.
AT THE BOTTOM OF EVERY PAGE YOU WILL FIND A

BUTTON. USING THIS WILL ENSURE THAT YOU WILL NEVER GET LOST. IF YOU NEED HELP FINDING THE ARTISTS, GO TO THE BOTTOM OF THE PICTURE.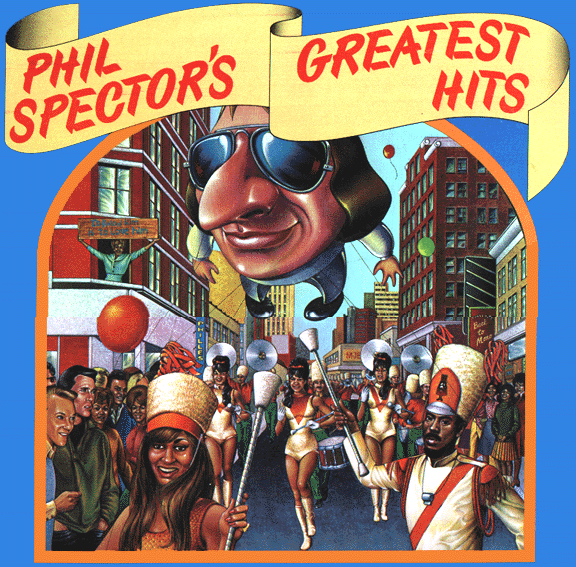 RIGHTEOUS BROTHERS: BOTTOM LEFT.
BOB B SOXX AND THE BLUEJEANS: BEHIND THE RIGHTEOUS BROS.
TINA TURNER:TO THE RIGHT OF THE RIGHTEOUS BROS.
DARLENE LOVE: HANGING OUT THE WINDOW.
PHIL SPECTOR: THE BIG GIANT BALLOON.
THE RONETTES: THE 3 MAJORETTES.
THE CRYSTALS: BOTTOM RIGHT.
---
HERE ARE A FEW EXTERNAL LINKS YOU MIGHT ENJOY


SEE WHAT OTHER FANS HAVE TO SAY, OR LEAVE YOUR INPUT IN THE
View My Guestbook
Sign My Guestbook
Special thanks to:
Mark Landwehr, David A Young, Roberto Tirado, Bill English. And Phil Spector for giving us those "Little symphonies for the kids".
---
Copyright 1997 Rausch/Jay Enterprise
jonr@ohio.net
this site visited
since counter was reset.original site date was 11/10/97